Key Benefits
Fineblanking Characteristics
Eliminate Machining
Reduce Costly Secondary Operations
Achieve Excellent Flatness
Form in Two Dimensions
Add Features
Rely on Rolled Stock Strength
Gain Design Freedom

---
Fineblanking Characteristics
Fineblanking is a hybrid metal forming process combining the technologies of stamping and cold extrusion.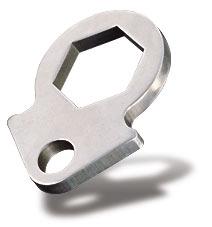 Triple-action presses combined with specially designed tooling produce parts impossible to make with any other stamping process. Fineblanking yields parts with the following characteristics:
Cleanly sheared straight edges, with little or no diebreak
Small holes relative to material thickness
Thin web sections
Excellent flatness
Components made from rolled stock from 0.005" to more than 0.750" (0.13mm - 19mm) thickness

Eliminate Machining
Fineblanking's unique characteristics mean parts that would otherwise require extensive machining after stamping to complete the design can often be produced to net shape. Costly shaving, milling, reaming or grinding to eliminate diebreak are no longer needed. Fineblanking can produce clean edges even where part function requires full bearing or sealing contact on sidewalls, or where edges must be smooth for cosmetic reasons.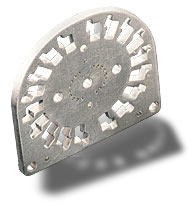 Reduce Costly Secondary Operations
Fineblanking's ability to pierce small holes and create thin web sections often eliminates the need for costly secondary drilling and machining operations. Because these features are created in the same stroke as the finished part, these features maintain a consistent position from part to part within a production lot and from the first production lot to the last.


Achieve Excellent Flatness
Throughout the fineblanking process pressure is constantly applied to both sides of the part - achieving flatness unmatched by conventional stamping. Flatness specifications typically are met right out of the press, without additional grinding or other operations.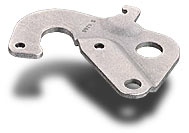 Form in Two Dimensions
Produce forms, bends and offsets to 70 degrees with single-station fineblanking tools. (More complex forms and bends can be made in progressive tools). Since these part features are made in the tool, they do not distort dimensional accuracy, shape or location relative to other part details.

Add Features
In the same stroke that blanks a finished part, fineblanking can create: identification marks and surface imprints, coined sections, self-rivets or contact points, countersinks, counter-bores, semi-pierces, cam tracks and many others. In a single station tool, these features are all made at the same time as the blank. This ensures unparalleled uniformity of position, from feature to feature, throughout each production run.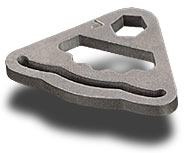 Rely on Rolled Stock Strength
A wide variety of metals with good cold-forming characteristics lend themselves to fineblanking, including: carbon, alloy and stainless steel, aluminum, brass, bronze and copper alloys. Parts produced by fineblanking rolled stock are inherently stronger than parts produced by casting and powdered metal.


Gain Design Freedom
By rethinking parts and assemblies with fineblanking in mind, component designers discover new ways to enhance parts, add function and save costs. It is often the most efficient process to manufacture components requiring tight dimensional control and consistent quality. The process and its inherent benefits can be applied to parts of virtually any size and shape - from tiny electronic contacts up through large plates for construction equipment.