History
The fineblanking process was patented for the first time in 1923 in Germany. The original idea was to apply a counter pressure force while blanking to prevent the edges from breaking and causing them to shear over the total thickness of the material. This technology was initially employed mainly in the office machine industry and the watch and clock industry.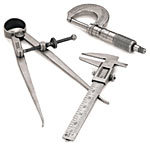 During the early years, fineblanking dealt mainly with materials from 1 to 3 mm. Today more than 60% of fineblanked parts are used in the automotive industry with thicknesses of up to 19 mm.
Considerable technological breakthroughs have been made in tooling, presses and materials for fineblanking in recent years. Companies are considering fineblanking at the design stage, taking full advantage of its capabilities.
Today, the fineblanking method of manufacturing has become a necessity in several major industrial sectors. Although first initiated in Europe, fineblanking has taken an important place particularly in the Japanese and North American automotive industry, replacing many of the more expensive manufacturing options.
For more information on fineblanking applications within the auto industry and other major industries, see Types of Parts.