Presses
The fineblanking press is not a standard stamping press. Fineblanking presses are unique by providing three specific motions: a stinger motion, which brings the stinger plate up and holds the material in place during blanking; a blanking motion, which provides the blanking force to push the part into the die cavity; and a counter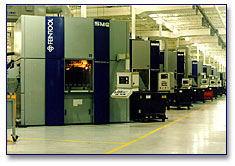 pressure motion, which holds the piece against the blank punch during blanking and ejects the piece part from the die cavity after blanking is complete. For an understanding of how the press works with these three motions, please see the How it Works section of this website.
There are two types of fineblanking presses: hydraulic and mechanical. Most fineblanking presses are hydraulic presses. Some smaller presses (up to 250 tons) are mechanical and all of the larger presses (over 250 tons) are hydraulic. The mechanical presses use a link system to generate the blanking pressure and hydraulics to create stinger pressure and counter pressure. The hydraulic presses use hydraulic pressure for all three motions.
Fineblanking presses come in a wide range of sizes. The smallest is 40 tons and the largest commercially available is 1400 tons.